I was sent Donkey X and Freddy Frogface from
Phase 4 Films
to review. These were both great movies and you will find yourself favoring one or the other. I enjoyed Freddy Frogface the most, my children liked the entertainment quality of Donkey X.
FREDDY FROGFACE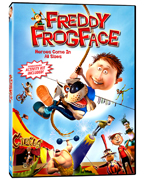 Victor and his friends were the smaller children, nerds or runts. Whatever the other bigger and tougher children want to call them. They are fun little kids, but there is a bully in town. Freddy Frogface is the bully. He is a lonely boy, who is big and who is mean. He beats up Victor and his friends because beating up other children seems to be the only thing he is able to do. We have all seen bullies and Freddy Frogface fits the mold perfectly. Victor wants to perform in a talent show with his dog and Freddy is intent on ruining it.
The film is filled with fun and lessons about dealing with bullies. Victor and his friends use their brains to deal with bullies. Freddy Frogface can do but one thing. He is a good bully with no other talents. He has the size and the power, but Victor and his friends have the brains. This film teaches one how to deal with bullies in a fun way. The animation and the movie was fun, my children thought the film was awesome. It is also great to see small children beat the bully....
DONKEY X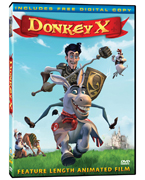 Follow Rucio, the most adventurous, brave, and mischievous donkey of Castile as he tells the true story of the legendary Don Quixote. Rucio jumps at the opportunity to join Don Quixote on his quest to battle The Half Moon Knight and overcome the dangerous obstacles that lurks them on the way.
This film is funny, laughable and a joy to watch. My children were interested in the movie from the very start. There is some light heart-ed fighting throughout the movie, but it is an adventure movie during a time of danger. This movie teaches children about the forces of good vs. bad, armor and knights. There is also magic spells, evil and good.
This wasn't my favorite of the two movies, but it was fun to watch. I enjoyed the funny parts. I love how the chidken beat up a vicious animal. The best part of the fights in this movie was they were done without blood, danger or too much frightful stuff. This movie is fun and entertaining for your children and teaches them a little bit about the history of knights.
Phase 4 Films
did a great job on both of these movies.
We were sent these movies from
Phase4films
to review, but the opinion